Post by meguro on Nov 23, 2015 12:54:02 GMT -5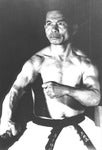 OK, let me restate, most traditional Kata applications are meant for use in close range fighting. The common uke (jodan, chudan, gedan, morote, shuto mawashi) although they can be used to block strikes (just like a crescent wrench can be used to crack walnuts) have more practical applications, principally joint and body manipulations.
As for age uke - it can also be used as a block. It's no coincidence that old school boxing and traditional karate have extremely similar techniques/applications. After all they both developed around the same time frame in the modern sense.
As for believing age uke cannot be used as a legitimate block - well that's up to you. I've provided physical evidence of the old school pugilists demonstrating age uke as a means of a block/counter off an overhand (in the demos they've given). These old school boxers were prizefighters and used these techniques in full contact prizefights. The fact that they deemed it important enough to record (through multiple sources) - goes to show that they indeed did use age uke to block overhand punches and that it obviously did work - hence the reason for demonstrating the technique.
Another picture showing age uke block & counter:
The still picture could be an illustration of jodan age uke or not at all. It looks like the defender's arm swept at a slight angle. Video would better illustrate your point because if the boxer did not perform jodan age uke just like karateka have done for countless repetitions, it's not the same thing.
I find it highly unlikely that prizefighters would demonstrate techniques that wouldn't work in a prizefight.
As I have said above, it is unproven that they are using the same technique. It is one thing to throw up an arm reflexively as in a startle reflex, quite another to cross arms and raise the horizontal arm while retracting the vertical to one's hip or waist according to karate fashion.

Quite a lot of people have touched on & noticed the similarities. It's highly probable that age uke as used in old school boxing must have also been used in a similar manner in traditional karate.
See above.
As far as I'm aware - at least within JKA shotokan - stances are merely viewed as transitions.
This is true, and it is a big mistake.
It's the principles that matter not how the stance actually looks - at least as far as kumite is concerned - the overall general principles that stances in karate teach are what's emphasized.
I agree, however since we disagree about the purpose of stances there will be a huge discrepancy in what is taught and emphasized.
The smooth switching between stances is not a meaningless exercise. If you can't understand the importance of being able to switch seamlessly between a stance with your weight on the front foot (zenkutsu dachi) to your weight on the back foot (kokutsu dachi) - and how important that is for; switching from attacking to a defensive countering/maintaining range & control of distance - then I don't know what to say. The stance themselves are obviously not as rigidly performed in kumite as they are in kihon/kata - the principles are still there. The movement in kokutsu dachi as well lends itself to any defensive or countering posture.
I understand perfectly the importance of the transfer of momentum, sadly the front to back seems to be all that is in Shotokan's repertoire. Going back to my telephone game analogy, the less detail and more distortion, the less reliable the information.

The seamless stance switching is why Machida can switch from attack to defense to countering - also a JKA karateka - and why he is a master at countering & maintaining distance and not getting hit. Watch any Machida fight and you'll see heavy instances of stance switching mainly of zenkutsu/kokutsu dachi/neutral stance. You see it in all JKA kumite.

Is it the rigid fixed stance we see in kata/kihon - no. In kata/kihon it's static - in kumite it's dynamic because after all you are competing. The principles however are there as well as the movement in these stances & the weight distributions. I can show you evidence of this if you want to see it.
As I said, I do appreciate the mechanics of striking. Machida is a superb athlete with a tremendous work ethic. He could probably make any style work for him. That JKA kumite would work for everybody is very much debatable. To me, it looks like when municipalities embark on roadworks projects at the end of the fiscal year so that their budgets don't get cut (busy work).
That could possibly be one application of kokutsu dachi to throw but I'd say why kokutsu dachi in particular - wouldn't any way work as long as the thigh is in the right position. Oh wait - you mean neko ashi dachi. Shotokan kokutsu dachi & Kyokushin versions look very different - I'm referring to the shotokan version.

The purpose of the lead leg in kokutsu dachi - from a striking perspective is well established I feel in shotokan. Neko ashi dachi however is a bit meh - you might be right in thinking that it has to do with aiding in throws.
You could put anything before what I've highlighted, and in many cases it would lead to some disagreement because in Karate, especially Shotokan, it's almost always about striking. Striking may be the best response in certain ranges, but within arm''s length, striking may not be the best method of attack or defense. This is karate's blindspot, and it is very obvious when kata applications and stances are demonstrated.
As to the neko ashi dachi vs kokotsu dachi, it has been said that the raised leg is to indicate the potential for a leg technique, presumably a kick. There is also much made about what percentage of body weight rests on the rear vs. lead leg. Such a waste of time in my opinion. Balance is not so big a deal if your are all alone. It becomes a big deal when there's somebody else pressuring you, leaning on you, trying to unbalance you. Kicking, at this point, is no longer an option and you must look to other technique.
Nice find on the old pics. I appreciate that you bothered to look those up. My apologies for responding earlier on my Ipad. It was the weekend and I was feeling lazy.