Post by azam on Nov 11, 2015 11:25:58 GMT -5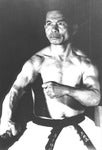 Thought I'd chime in.
What I've learnt from research into the topic is: there is no right or wrong way to do kata and it depends on what you want to get out of it.
. . .
Yes and no. It depends on one's perspective, of course. Not all perspectives are equal. Poor information can lead to bad choices. Which perspectives are better and why? Lineage, tracing back from present teacher to those before, is not the best method of determining value for the simple reason that the founder could have been wrong. Better than lineage is comparing movement patterns in common with other arts and seeing how closely they work with/accommodate/destroy the human body, particularly the joints. In conjunction with this, one must compare the level of detail and reliance on woo. The more woo and the fewer details, the more you should suspect bs. Fighters are practical people, freight your training with woo, and you will likely lose.
That kata are adapted or changed to fit modern times demonstrates a profound lack of understanding of the kata. Times may change, but the form of the human body does not, and that is what we are dealing with. (This is not to say that new kata cannot be invented, of course they can.)
Hmmm I'm not sure I agree with you here.
Lineage is important because it helps you understand the evolution from then - up until now. It also gives you the unique position of being able to understand the perspective of the founders and those who have contributed to the evolution of said form - being able to understand why you are doing something is key in appreciating what you are doing and more importantly
finding value if there is value to be found
. When you can understand the purpose behind the form you have better tools to compare it to other common martial arts forms.
Solely using forms common in other systems I feel is a flawed perspective. I understand your point that there is a common branch in regards to forms/movement patterns with other arts but applications vary and so does environment. This is why many martial arts systems exist because we are not all the same.
The form of the human body is not the same for all of us nor our are environments similar and hence how we express/apply ourselves will be different.
A great way to demonstrate this is in Karate itself. We have Shuri and Naha forms of Karate. As Gichin Funakoshi mentions in his book they are different approaches based on different body types using the same form of the human body - in this case using the same common tools found in Karate but in uniquely different ways.
"We have many ryu-gi (schools) in Okinawa under the direction of many different teachers, but basically there are only two ryu. They are Shorin-ryu and Shorei-ryu. Shorei-ryu is supposed to be fitted for the bigger man while Shorin-ryu suits the smaller, lighter man. Each of these ryu has its strengths and weaknesses, but fundamentally Shorei-ryu's fault is its lack of mobility, and Shorin-ryu, though it is light and fast, lacks the power of Shorei-ryu. Those who study Karate must be aware of the strengths and weaknesses of each style." - G.Funakoshi
The form of the human body may not change drastically but the environment in which that human body interacts will inevitably change and as a result so does application with it.
An example of this is the formation of Judo from the older koryus of jujitsu by Jigoro Kano. It is a clear example of adaption or modernization of a group of common styles, as a result of the changing environment of Japan and the new need of the times despite the fact that the form of the human body is not that much different from then till now.
Martial history is littered with adaption/change and so is the history of kata.
Kata are meant to be adapted to the times. That all
the greatest proponents of Karate all adapted there kata
and in instances created some from scratch. I think the biggest hoodwink in Karate has been this perspective that kata have not been changed or adapted and that somehow to do so is to go against the grain or means that the you lack what kata is all about despite there being a good deal of evidence of it having been done by the greatest proponents of Karate.
The fact that there is evidence of Mabuni, Funakoshi, Uechi, Miyagi et al - all having modified the original forms they learnt. Mabuni Kenwa arguably the greatest proponent/chronicler of kata himself adapted/created kata from older forms. Adaptions or modifications to kata were done as a means to improve them, reflect new advances etc etc - not just to change for changes sake. But to reflect the changes in environment/times & any new advances that came as a result. But only when they could be improved.
A good example to illustrate a modification to kata is an example I have given already. Sanchin's original form is open hands as we see in Uechi ryu. Chojun Miyagi modified the open hand to a closed fist. It should make sense why this was done and why he changed the breathing from shallow to deep.


In case I'll just mention why I think it was adapted though it is self evident: a closed fist because it is much more conducive to the long term health of your hand than using your fingers - if you need to hit something.
Imagine if Sanchin was still practiced with open hands instead of closed fists like the original sanchin was meant to be practiced and that Miyagi had not adapted it. You'd have the same issue many serious uechi ryu karateka have with deformity of the hands/fingers.

I mean just look at Shinjo sensei's hands.



The breathing was adapted because in the original Sanchin - it is continuous muscle tension with shallow breathing. This is extremely harmful for people with high blood pressure or heart issues or can possibly create or aggravate health issues and was changed to deeper breathing at the tandem
(with complete exhales - so you still get the benefit of isometric training that the original sanchin provides in abundance)
to relieve/alleviate the stress on the heart & circulatory system with the added benefit of improving it.