Post by MMX on Jun 11, 2014 18:47:02 GMT -5
Review of E-Bogu's new Full Contact Karate Gi
Master Quality BUTOKU Full Contact Karate Uniform Set (MFC12)
www.e-bogu.com/Master-Quality-BUTOKU-Full-Contact-Karate-Uniform-p/tak-kar-uni-full-whi-all.htm
I was able to attain one of these new karate dogi to put it through its paces.
I have been previously using their earlier model(Top Quality BUTOKU Full Contact Karate Uniform Set (FC 2000) )and was very happy with that model.
When I saw they were making an improved version I was very interested.
I was told this was closer to Japanese sizing so I got a 6 which is a better fit than the older FC2000 6 (which was more like a 6.5-7)
The first thing to note is the jacket is a new cut and made of a higher grade but still comfortable canvas/cotton blend. Still has the very well made reinforced stitching(handy if you are in Enshin or another style that has throws involved) and the shorter but still past the elbow sleeves.
The nice thing is that the new cut keeps the jacket top more secure and less prone to open up as it did on the older FC2000 model. The new material is seems like it may be more up to the task of repeated throwing as it seems more durable overall. The pants are just about the same but I am not sure if it is due to the better sizing or they change the cut slightly but they feel better and the kicks seem easier too.
Overall if you take an already good product(FC2000) and refine it and improve it you now have the Master Quality BUTOKU Full Contact Karate Uniform Set (MFC12). It is nearly the same price as the older model and still beats the imports by more than 80% in the cost department.
On a 1-10 scale I would give this model a 9 based on price,quality,and functionality.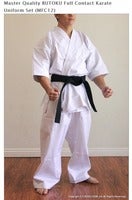 E-Bogu Master Full Contact Gi
BUTOKU brand presents a newly renovated all-round full contact karate uniform with improvements made in design, fabric material and comfort. This is one of the few high quality full contact karate type GIs available in the US. The fine weave #11 Hanpu 100% canvas cotton is lightweight to keep you cool during rigorous training but durable enough to withstand heavy grappling. The fabric for the loose fitting 100% Zen cotton drawstring pants is soft and smooth for increased comfort. This GI is perfect for intermediate to advanced practitioners. White belt included, jacket has no inner ties.